What Can Affect the Appearance of Your Abdomen?
2 Minute Read: 
Everyone wants a firm and flat stomach. A toned abdomen can make you feel more self-confident and secure in your appearance. Unfortunately, many factors negatively impact the appearance of your waistline.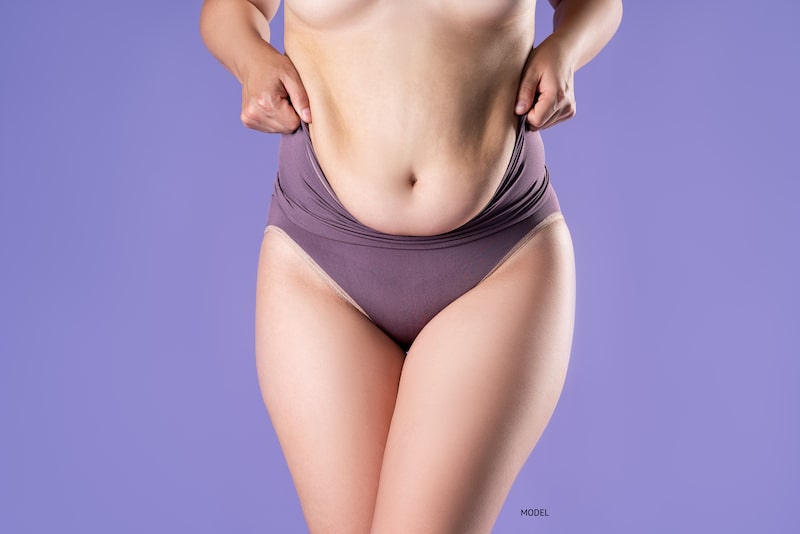 What Factors Affect Your Abdominal Contour?
Many factors can impact the appearance of your abdomen, including:
One or several pregnancies

Tissue breakdown that occurs with age and leaves skin loose and flabby

Significant weight fluctuations (loss or gain) that cause the skin to become elastic and loose

Genetics

Poor diet and lack of exercise
Carrying excessive fat in the abdomen can result in lowered self-esteem. Additionally, "belly fat" can lead to serious health concerns. Many experts have deemed belly fat to be "the most dangerous fat to carry."
How to Get a Firm Abdomen?
Unfortunately, a healthy diet and exercise cannot always produce the exact results you want.
When this happens, some individuals turn to cosmetic procedures for a faster, more reliable solution. Many new mothers or middle-aged women consider liposuction or tummy tuck surgery to tighten the midsection and restore the slimmer physique they had in their youths. 
Both of these procedures offer great results, but they do carry some distinctions from each other.
Tummy Tuck
Tummy tuck surgery (abdominoplasty) is an excellent option if your only problem area is your abdomen. A tummy tuck surgery does not address excess fat on the hips, flanks, or surrounding areas like liposuction can. However, if you have excess skin or loose muscles in the stomach area, you will need a tummy tuck procedure to address it. Tummy tuck surgery removes both the excess fat and skin around your abdomen. As part of the tummy tuck, doctors always do liposuction in the lower abdomen to help contour.
Liposuction
Liposuction (also known as "lipo") is the process of removing localized fat cells. If you have problem areas past your abdomen, liposuction can likely help. Liposuction can address fat removal in the neck, cheeks, arms, abdomen, waist, back, flanks, buttocks, thighs, hips, knees, and ankles.
Liposuction cannot treat excess skin or cellulite.
Many people choose to combine their tummy tuck with additional liposuction to achieve an optimal contoured physique.
Interested in Learning More?
If you are unsure if liposuction or a tummy tuck is the right procedure for you, book a consultation to get your questions answered. Dr. Robert Knowling will take the time to discuss your goals and concerns and will provide a personalized recommendation. 
With over 25 years of plastic surgery experience, Dr. Knowling has the expertise and skills to give his patients the best results. Book an appointment today by calling 256-881-2220 or filling out our online contact form.