Facelift in Huntsville, AL
Facelift surgery, technically known as a "rhytidectomy," is a cosmetic procedure designed to provide a more youthful facial appearance. Over time heredity, gravity, stress, and environmental conditions take a toll on our skin and cause us to look noticeably older. A facelift improves the signs of aging in the face and neck, including fine lines, wrinkles, sagging skin, jowls, marionette lines, nasolabial folds, and hollows beneath the eyes.
Benefits of a Facelift
Restore Your Confidence
Facelift surgery provides a significantly more youthful, rested appearance, which allows patients to feel better about themselves and boosts their confidence and self esteem.
Natural Looking Results
Previous facelift techniques only tightened the skin, potentially resulting in a pulled or wind-blown look. Current facelift techniques tighten the skin as well as the underlying structures of the face, providing very natural-looking results that are long lasting.
Dr. Knowlings' goal has always been to, in a subtle yet distinctive way, restore his patients' appearance to that of a more youthful one, by accentuating their attractive features, not changing their identity. He believes that his work receives its greatest compliment when his patients' friends and associates cannot detect what actually has changed about their appearance, yet are certain that something has changed. The patients appreciate very much that their aesthetic goals have been accomplished without the outward appearance of having had "a procedure".
Feel Younger
A facelift can take up to ten years off of your appearance, and when you look younger, you often feel younger. Dr. Knowlings' goal for his facial rejuvenation patients is that they look as young as they feel.
Multiple Options
Whether you desire minimal wrinkle correction or complete facial rejuvenation, there are various facelift options to meet any and all of your needs.
Types of Facelifts
Traditional Facelift
A traditional facelift addresses fine lines, wrinkles, and sagging skin in the lower face, jowls and neck. Dr. Knowling commonly releases deeper facial retaining ligaments to achieve a more long-lasting, durable result. The final touch is removal of sagging skin with particular focus on wound closure and orientation to minimize scar visibility and appearance.
A traditional facelift provides the following benefits:
Achieves the most significant improvement
Eliminate signs of aging in all areas of the lower face and neck
Produces a very natural appearance
Limited incision Facelift
A limited incision facelift is a less-invasive alternative to the traditional facelift. It is an ideal procedure for men and women who seek a subtle improvement to the lower face.
A limited incision facelift provides the following benefits:
Uses fewer and shorter incisions than a traditional facelift
Improves fine lines and wrinkles in the lower face
Allows for a shorter recovery time than a traditional facelift
Neck Lift
A neck lift is often performed along with a traditional facelift procedure. Dr. Knowling tightens the neck muscles and removes sagging skin to produce smoother, more youthful-looking neck contours. Dr. Knowling commonly removes excess fat in the neck during this procedure.
A neck lift provides the following benefits:
Eliminates wrinkles, "neck bands" and sagging skin in the neck area
Improves the appearance of a double chin
Produces a more youthful looking neck.
---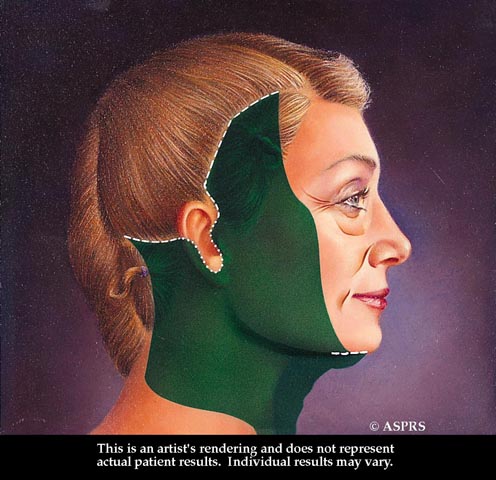 Incisions usually begin above the hairline at the temples, follow the natural line in front of the ear, curve behind the earlobe into the crease behind the ear, and into or along the lower scalp.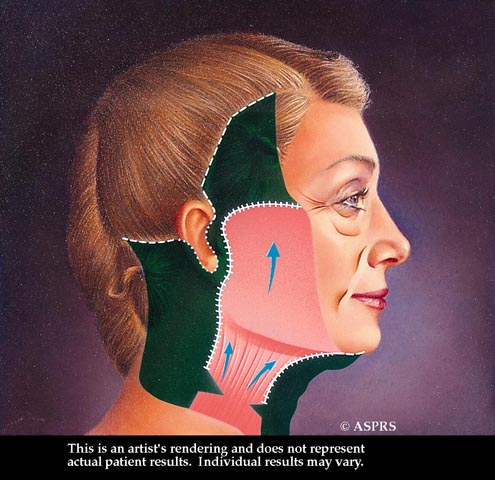 Facial, neck tissue and muscle may be separated; fat may be trimmed or suctioned and underlying muscle may be tightened.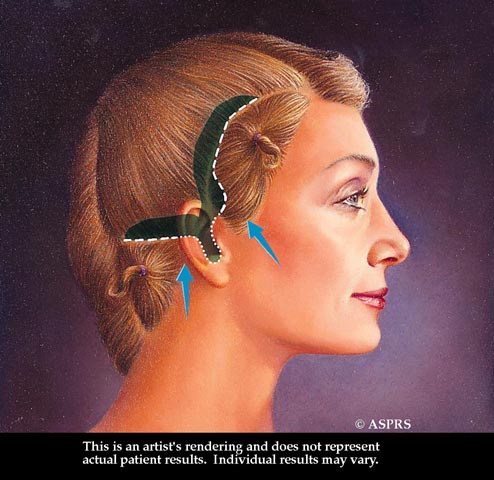 After deep tissues are tightened, the excess skin is pulled up and back, trimmed and sutured into place.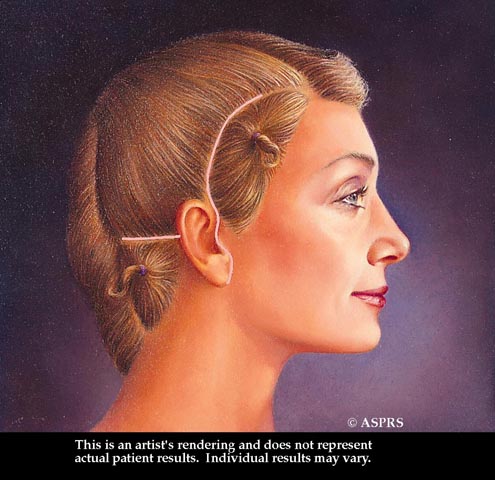 Most of the scars will be hidden within your hair and in the normal creases of your skin.
---
A. If you can relate to any of the following, a facelift may be the right option for you:
You have fine lines and wrinkles on your face or neck
You have sagging tissues on your face or neck
You always appear tired, sad, or angry because of deep-set wrinkles
You appear older than you feel or older than your actual age
A. Patients are generally able to return to work at two weeks post-operatively as all visible sutures have been removed by then. Four to six weeks is required for full healing in general. Subtle changes take place for up to six months post-operatively.
A. General anesthetic is utilized for most full facelift techniques. Limited incision approaches can usually be performed under sedation with local anesthesia.
---
Have additional questions about the Facelift in Huntsville, AL procedure? Schedule a Consultation with Dr. Knowling for further information.